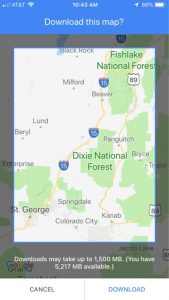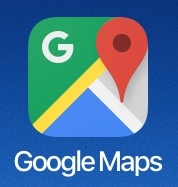 A lot of times when you are traveling, you wind up in an area where you don't have cell phone service.  If you have come to rely on your phone to figure out where you are and where you are going, this can be a real problem. Fortunately, the Google Maps app on your phone can help if you give the problem some forethought.  Google Maps lets you download the maps for an area onto your phone so that you don't need cell service to use them.
Open Google Maps and search for the area you are going
Touch the 3 bar menu (top left)
Touch "Offline maps"
Touch "Custom map" (iOS) or "Select your own map" (Android)
You will be shown a rectangle with a map of the area you searched. You can pinch and zoom around there so that the area in the rectangle shows the area you want to make available offline.
Click "Download" on the bottom right.
General Notes:
The maps can use up a lot of space on your phone, and the bigger the area you select, the more space it takes up.
You probably want to do the initial map download while your phone is on a WiFi connection.
You can download several offline maps. This allows you to download odd shaped areas you may need without having to just download a large rectangle of area you don't need.
Google will automatically "expire" the map in 30 days and remove it from your phone.
The navigation capability for the offline map is limited to driving only.  It won't give you walking, cycling or transit routes.
When we travel and know we'll need to use navigation in a rental car, we always bring a dashboard phone mount along also.