Trip Summary
10 Days / 9 Nights
Avg miles per day: 30-60
Hill profile: FLAT.
Cost: $5,500* per couple
($2,750/person)
$5,200 per couple ($2,600/person) if you register by December 1, 2017.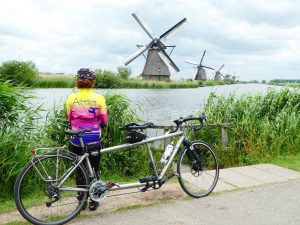 The Netherlands has the world's biggest cycling culture. There are bike paths galore, people are friendly, the scenery is lovely and flat, flat, flat. Our tour starts in Amsterdam, heads south along the North Sea to The Hague, then east to the cheese town of Gouda and north to the college town of Utrecht and the seaside village of Huizen before ending back in Amsterdam. Tour small farm towns as well as larger cities. Experience castles and the centuries old cheese market in the medieval town of Gouda. Ride past iconic windmills. Enjoy riding through nature preserves on reclaimed land created by massive dikes. Our tour is a land-based tour where you will have the opportunity to immerse yourselves in the restaurants and cultures of each town. We will be capping the tour at ten couples. Our tour is scheduled to run from July 1-10, 2018, when the sun begins to set after 10pm, so there will be plenty of time to explore.
Here is a more detailed itinerary:
We start the tour on Sunday, July 1st in Amsterdam. Amsterdam is the capital of and largest city in The Netherlands. There is a lot to see and do in Amsterdam, so we suggest that you arrive a few days early to see sights like the Van Gogh Museum, Ann Frank House, Westerkerk Church and tour the Heineken Factory. Also, it is a good idea to add a few days to get over the jet lag. We can add nights at the Westcord Arts Hotel, upon request. We will meet up, provide an area in the underground garage to assemble bikes and offer a few loop rides in the 20 to 40 mile range. We will also host a group dinner at the hotel.
---
On Day 2, we leave Amsterdam and cycle to the beach town of Scheveningen, just outside of the Hague, the seat of the Dutch government. We will ride through the elegant city of Haarlem to the sea. Then the route turns south as we ride alongside windswept dunes where you can admire the flora and fauna. (Note that we will be visiting well after bulb season, and the weather will be a lot warmer, the days longer and the bulb tourists nonexistent.)

In Scheveningen, enjoy a stroll along the seafront, or explore the Hague nearby. Watch the kite surfers in the North Sea, take a ride on the giant Ferris Wheel or just walk along the beach and dip your feet into the water.

The mileage is in the 45 mile range.

We will stay by the beach two nights. On Day 3, the layover day, you will have the opportunity to do loop rides which will include the nearby city of the Hague – where you can stop and tour the museums, including seeing Vermeers ""Girl with a Pearl Earring" in the Mauritshuis Museum. We will also visit the lovely town of Delft.
---
| | | |
| --- | --- | --- |
| | On Day 4, we will ride on to the small town of Gouda. In Gouda, you can sample the cheeses or syrup waffles that Gouda is known for. You will have the choice of a shorter route of about 40 miles or the longer route that is about 60 miles. The 60 mile route takes you on bike paths through Rotterdam, the second largest city in The Netherlands, and on to the famous row of windmills at Kinderdijk.​ | |
---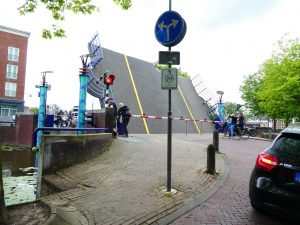 On Day 5, you can walk through the weekly cheese market that is held Thursday mornings in Gouda. Since we will be staying in Gouda for another night, you will also have a choice of loop rides of varying distances. One ride will take you through the medieval town of Haastrecht, which was built in the 12th Century) and the town of Schoonhoven, known for its silver and gold smiths. Another ride takes you to the windmills at Kinderdijk in case you missed them on Day 3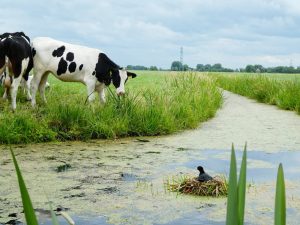 ---
On Day 6, we leave Gouda on a ride to the university town of Utrecht. Ride through landscapes of rivers, polders (which are low lying lands that are protected by dikes), lakes and woods. Pass by cheese farms, beautiful homes and even a castle. In Utrecht, you can climb the Dom Tower, the highest church tower in The Netherlands and take an underground archeological tour of the city. Today we only ride about 35 miles. There is a lot to stop and see!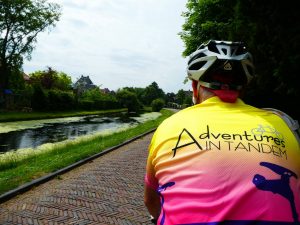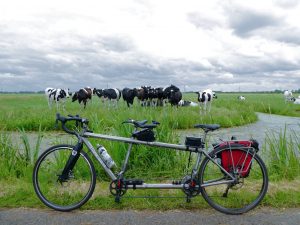 ---
On Day 7, we will spend another day in Utrecht. It will be up to you how much you want to ride as we will offer a number of rides. Or you could take a rest day and explore one of the many attractions in Utrecht including taking a cruise through the Canals area, touring the Railway Museum and the DOMunder archeological dig site in the center of the city.
---
Day 8 we leave Utrecht en route to Huizen. We will cycle through the town of Hilversum, home to Holland's television industry. We pass by a number of windmills. Ride through the medieval walled city of Naarden. Visit Muiderslot Castle, built in the 14th century. The ride to Huizen is 30 miles, but longer routes are available.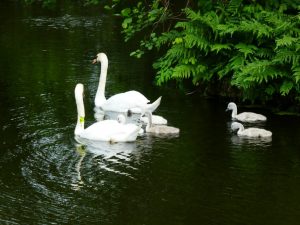 ---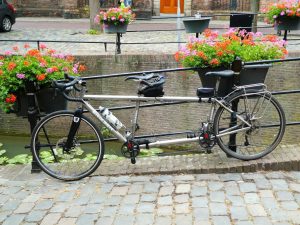 On Day 9, we head back a short 25 mile ride to Amsterdam, where we disassemble our bikes and tour a bit in Amsterdam. We will enjoy a final dinner together in Amsterdam, perhaps a dinner cruise in the canals in Amsterdam.
---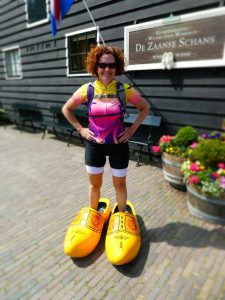 If you have made it this far, then you are serious about signing up for our trip. Please review this link about riding in Amsterdam.
The cost is $5,500 per couple. However, if you register by December 1, 2017, we will give you a $300 discount – so $5,200 ($2,600/person). A non-refundable $500 deposit will secure your spot on the tour. We require 50% payment by January 1, 2018 and the remainder is due by April 1, 2018.
What is included?
9 nights lodging
9 breakfasts, 6 dinners
Luggage transport
Bicycle breakdown support
Tandem bike case storage, if needed
Note that we do not provide any bicycles. We expect that you have a tandem that is in good working order and that you are able to assemble your bike. If you do not have your own tandem, you can rent a coupled tandem from Mel at Tandems East. If you cannot get your hands on a tandem, we can help you rent single bikes.

What is not included?
Airfare
Meals, other than those mentioned above
Alcoholic beverages
Admission to points of interest
What is the average mileage per day?
Mileage is in the 30-60 mile range each day, with three potential rest days. Many of the days will have optional lengths. Across the week, expect to ride 170 to 300 miles.
How hilly is it?
This is the flattest ride we ever expect to offer. There are very few hills. That said, you can sometimes experience a sustained headwind that may make it feel like a hill. Sometimes you get a tailwind and you feel like Superman.
Where will we be staying?
While this could change, here are some of the hotels that we plan to stay in.
 Westcord Art Hotel, Amsterdam
Grand Amrath Kurhaus (seaside), Scheveningen
 Best Western, Gouda
Hotel Mitland, Utrecht
Fletcher Hotel Nautisch Kwartier, Huizen
---
| | | |
| --- | --- | --- |
| | How do we sign up? | |