Trip Summary
11 Days / 10 Nights
Avg miles per day: 30-65
Hill profile: Long shallow hills. Winds may make the hills seem worse.
Cost: Roughly $6500 per couple
($3250 per person)
We expect to open registration in May 2020.
Join us for an exotic adventure in Morocco! Adventures in Tandem has teamed up with Naturbike S.L. to design a tandem tour of southern Morocco. Naturbike has been running trips in Morocco for over 20 years. Visit Kasbahs, desert oases, small Berber villages and Hollywood movie sets as we cycle through amazing landscapes. We will even spend an overnight in the Sahara, ride camels (sorry no tandem camels) and watch the sunset and sunrise over the sand dunes. We begin our tour in Marrakesh and end in Fez.
Take a look at our scouting trip:
Note that this trip does have some days where there is up to 65 miles of riding. While will be prepared to provide a limited amount of SAG support, we expect each team to be able to ride the distances.
We have included all breakfasts and dinners on this tour. You will be on your own for most lunches; however, we will also have the support vehicle which will always be stocked with snacks and water. Where there are no lunch options available, we will provide a lunch break along the road.
Day 1
Saturday
Our tour begins in the vibrant city of Marrakesh.

Enjoy the walled-in Medieval city or medina with its colorful souks (marketplaces) that sell textiles, exotic spices, Berber carpets, pottery and jewelry. See snake charmers and story tellers as you explore the life in this centuries old town. Oh, and also we will assemble bikes in Marrakesh. We will enjoy a group dinner in Marrakesh.

Day 2
Sunday
We set off early for the three hour drive up to the Tizi'n Tinififft mountain pass (5400 feet elevation) in the High Atlas Mountains where we will begin our tour. We will ride through the town of Telouet where you can explore the remains of the Telouet Kasbah, once a critical palace along the trade route to Marrakesh. Then we will cycle down to the magnificent Ounila Valley passing Berber villages and amazing scenery of contrasting colors between the mountains, rocky panoramas and lush green gardens by the river.

We end the day in the UNESCO World Heritage Center of Aït Benhaddou. Aït Benhaddou is an ancient fortified village along the former caravan route from the Sahara to Marrakesh. (42 miles, 2200ft/-5100ft)

Day 3
Monday
After exploring the Aït Benhaddou old city in the morning, we will set off to the town of Ouarzazate, the district capital of the region. Visit the huge Kasbah of the former Glaoui (or Lord of the Atlas). Then visit Atlas Studios – the world's largest film studio – at least by acreage.

This is where Lawrence of Arabia, the Jewel of the Nile, Cleopatra, and many more movies were filmed. It is an active studio today. Atlas Studios has left several Hollywood sets intact, so you can walk from Rome to Babylon to Athens, skipping centuries by walking around the corner. Since there is so much to see and do, today's ride is about 25 miles, +700ft/-1300ft.

Day 4
Tuesday
We will ride through the lunar landscape of Jebel Sagrho to the Draa Valley, known as the largest date palm oasis in Morocco. We will climb through the Tizi-n-Tinififft pass and end the day in the small town of Agdz (pronounced ag-daz). We will be staying right next to a ruined castle/prison. Today's ride will be 42 miles with about +4000/-4600 feet of elevation change.
Day 5
Wednesday
We leave Agdz enroute to the town of Zagora. Zagora is a dense palm tree oasis of the extended Draa Valley, dotted with fortified ancient villages (Ksars) and noble family homes (Kasbahs) made of clay. We will ride 61 miles with about +1700ft/- 2400 feet elevation.
Day 6
Thursday

Layover day in Zagora. You can rest today and take in the town or take a tour of the Draa Valley or nearby town of Tamegroute. Tamegroute is known for its unique pottery which is different from other Moroccan pottery. Today's ride is as long as you would like as it is an out and back. If you want to ride to Tamegroute, it is about 22 miles roundtrip.

Day 7
Friday
We leave the Zagoran desert oasis enroute to a desert camp near the village of Tazzarine. Today's ride is 62 miles with +1800/-1500 feet of elevation change. There will also be a 2 mile stretch of dirt road at the end. We will be staying in Berber tents with shared (clean) bathroom and shower facilities. Note that the tents do have electrical outlets.

This is another day of spectacular desert stone and rocks.

Day 8


Saturday

Today's ride takes you from Camp Serdrar through the Berber oasis town of Nkob. The ride then continues on very quiet road to Tansikht where we will pick up transport to take us on a three hour drive to our night's lodging in the city of Merzouga. We will be reunited with our bike cases and the riding part of the trip will be over. 
Day 9
Sunday
After breakfast you will have more time to pack your bike. After lunch, we will tour the area of Merzouga including a stop at a factory that polishes fossils. We will board camels to explore the Saharan desert. We will view the sunset over the dunes, have dinner by the campfire, sleep in a nomad tent and return after breakfast. Don't worry, our tents do have bathroom and showers!
Day 10
Monday

After breakfast in the desert and a return camel ride, we will be transported to Fez, a seven hour drive. We will be driving through the scenic Ziz Valley. We will stop for a hike and lunch. We will end our tour in Fez where we will enjoy a final group dinner. Fez is a medieval city known for its walled medina and souk. It is often referred to as the cultural capital of Morocco.

Day 11
Tuesday
Our tour concludes after breakfast. You may wish to spend additional days in Fez or continue your travels.

Note that this tour begins in Marrakesh and ends in Fez.
As with most of our tours, we limit the size of the tour to a maximum of 10 couples.
The cost of the trip is $6500 per team ($3250 per person).
What is included?
Guided tour with a driver and a guide from NaturBike
10 nights lodging in 3 and 4 star hotels and one Sahara desert tent
10 breakfasts, 4 lunches and 10 dinners
Transportation to the start point (Tizi-n-Tichka pass or Telouet) and back from the endpoint in Midelt
Transportation to the Saharan desert
Camel tour, including overnight in the Saharan desert
Luggage transport
Support vehicle
Tandem bike case storage
Note that we do not provide any bicycles. We expect that you have a tandem that is in good working order and that you are able to assemble your bike. If you do not have your own tandem, you can rent a coupled tandem from Mel at Tandems East. If you live on the West Coast, you might want to consider renting a bike from Mark at Tandem Diversity. Both Mel and Mark sell tandems, so if you end up renting from them, you might get a discount if you purchase a bike from them. If you have a tandem that is not coupled it is possible to bring it, but you should make sure that all of your flights could handle the larger box. Lastly, Adventures in Tandem has a coupled bike that we could rent to you if the sizing works out. Email us for more details.
What is not included?
Airfare
Meals, other than those mentioned above
Beverages
Admission to some points of interest that we are not entering as a group
What is the average mileage per day?
Mileage is in the 30-65 mile range each day, with one or two rest days in the week. There is a limited option to shorten rides if you take advantage of the SAG support; however, we expect this option to be used only if a member of the team is ill or physically incapable of riding the distances. Longer rides are also possible, but may be out and backs or repeat some roads that we will ride later in the week. Across the week, expect to ride 300 miles. There are no sustained steep climbs; however, there are days where there will be some ups and downs. This is not a flat tour. This cycle tour is for intermediate level cyclists.
| | | | | |
| --- | --- | --- | --- | --- |
| Day | Route | Miles | Ascent | Descent |
| 2 | Tizi Tichka to Ait Benhaddou | 42 | 2200 | 5100 |
| 3 | Ait Benhaddou to Ouarzazate | 25 | 700 | 1300 |
| 4 | Ouarzazate to Agdz | 42 | 4000 | 4600 |
| 5 | Agdz to Zagora | 61 | 1700 | 2400 |
| 6 | Tamegroute Out and Back | 22 | 500 | 500 |
| 7 | Zagora to Tazzarine | 62 | 1800 | 1500 |
| 8 | Tazzarine to Tansikht | 56 | 1900 | 1700 |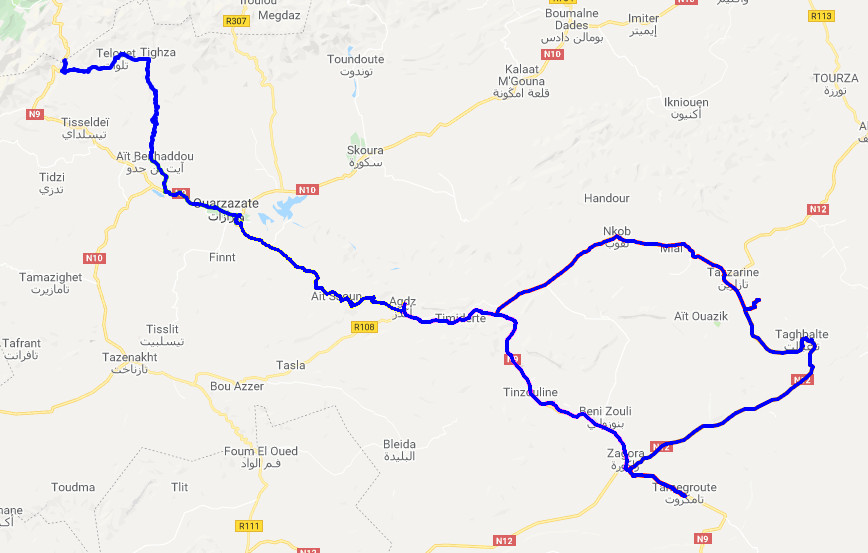 Where will we be staying?
While this could change, here are some of the hotels that we plan to stay in.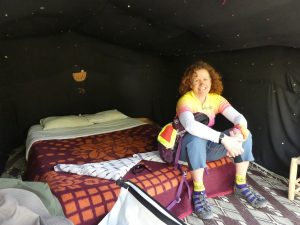 Note that you will be staying in Berber tents. These tents are not tall enough to stand in. There will be clean shared bathroom and shower facilities at Camp Serdrar. Each tent does have a light and electrical outlet.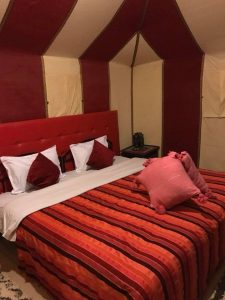 These tents are like hotel rooms in the desert. You will have an en-suite bathroom and shower.
A few FAQ's regarding this trip…
We don't speak Berber, or French (Morocco's second language). How difficult will that be? This is generally not a problem. Adventures in Tandem will provide a few standard phrases that may help you. Our guide will be fluent in French and is accustomed to the area.
Do the hotels have WiFi? The hotels generally have wifi; however, it might be slow. There are very inexpensive SIM cars with data available and for the most part you should be able to stay connected.
Do the hotels have air conditioning? Some of the hotels have air conditioning, some don't. You probably won't need air conditioning at night, though, since nights are generally cooler in the desert.
I'm female. How should I dress? Morocco is a Muslim country. While women do not need to be covered, you may want to leave the miniskirts home. As for cycling clothes, that's fine. You might want to bring shorts that are a bit longer, though. We recommend wearing 3/4 length capris for cycling. Women should also cover their shoulders. Short sleeves are fine.
I have special dietary needs. Can Moroccan restaurants handle gluten-free, dairy-free and vegetarian diets? In general, dairy-free and vegetarian diets are not a problem. Gluten-free is more of an issue, but can work if you don't mind living on omelets. Okay, I'm a vegan? Can I eat in Morocco? We can only do so much. I think you'll starve. Actually, you might be able to survive on cous cous and bread.
What is the road surface? We will be riding on tarmac, except for two miles of packed dirt on day 7. That said, when we test rode the routes, we noticed that there was a lot of construction going on. It is possible that they may be resurfacing a road. This may cause small sections (perhaps up to three miles) that may be dirt or gravel.
Will everyone be required to ride together with the guide? Nope. We expect you to ride at your own pace and take breaks to explore when you want to. While not required, we do hope that you ride in groups of two tandems if possible. Our guide and van are never too far away, though, if for any reason you need support.
Is the water drinkable? We recommend that you only drink bottled water and not eat any uncooked fruits and vegetables unless they have a thick skin or peel.
Do I need any vaccinations to enter Morocco? While you are not required to get any special vaccinations, the US Centers for Disease Control and Prevention recommend that you get vaccinated for Hepatitis A and Typhoid. In addition, you should make sure that your DTP shots are up to date. (Note that there is a combined Hepatitis A and B shot that you might want to consider.) Check with your health insurance. Frequently some or all of these vaccines are included in your coverage. You can get these shots at your local Walgreens or other drug store.
Do I need a visa to enter Morocco from the United States? There are no special visa requirements for entry from the United States. If you are traveling from another country, you should check to see if there are any special requirements.
Do you recommend travel insurance? We recommend that you have a trip insurance policy that covers emergency evacuation, just in case.
Is there anything else you want to tell me? We are glad you asked! Morocco is a third world country. It is very poor, but we did not see poverty. We found bathroom facilities, outside of the hotels where we are staying, to be lacking by western standards. Expect some squat toilets without running water and long stretches of cycling with no indoor bathrooms. We found the people to be the friendliest that we have ever experienced and the views were spectacular. That said, you will need to bring along your sense of adventure and adaptability for this tour.
Please let us know if you have any other questions. We hope that you are as excited about this adventure as we are!