Trip Summary
9 Days / 8 Nights
Avg miles per day: 30-40
Hill profile: Moderate hills
Cost: $5,800 per couple*
($2,900 per person)
Think castles, wine, and beautiful landscapes. We ran this tour in 2017 and really loved the quiet roads, amazing food, lovely accommodations, fascinating (although, perhaps a bit confusing) history and unique attractions.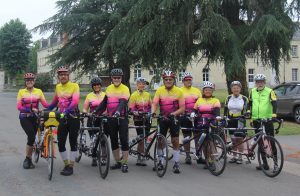 Our eight night tour begins on July 6, 2019 when we meet at the Hilton in Charles de Gaulle airport. We will load the bike cases on our van and then leave the Hilton by chartered bus which will take us to the town of Roiffé in the Loire Valley. We will assemble bikes and, time permitting, take a short, group ride to the town of Fontevraud-l'Abbaye where we will tour the famous — and very old! —- Abbaye Royale de Fontevraud where Eleanor of Aquitaine and her son Richard the Lionheart are buried. We will finish the day with dinner at our hotel.
---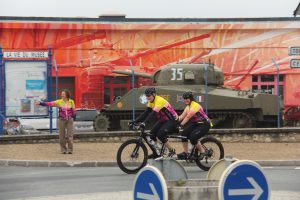 On our second day you will see our first (of many) châteaus, but first, you will ride to the Musée des Blindes – that is, one of the largest tank museums in the world!  After touring the museum (or just taking a few tank shots), you will ride to Château de Saumur where you can take a guided tour of the Château. Enjoy panoramic views of the town of Saumur and the Loire Valley. Stroll the town and have lunch in one of the many restaurants near the Château. After leaving Saumur, you will have a choice of routes. Each route will take you to the Château de Brézé with its 50 foot dry moat that you can walk along. Both of these châteaus are among the oldest in Europe, with parts
dating back nearly 1000 years. We end the day with a second group dinner.
---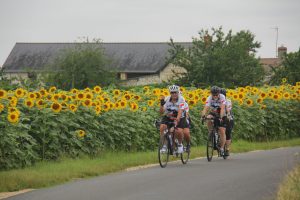 On Day 3, we leave the town of Roiffé stopping at the town of Chinon and touring the Royal Fortress of Chinon, where Joan of Arc was appointed to lead the French army in the year 1429. After touring the Fortress, enjoy lunch in the town. Then cycle to the recently restored Château du Rivau where we tour the château and gardens. You can round out the day with a visit to a winery in the afternoon.
Then it's on to stay at the Château de Marçay – a real castle! Dinner is a group dinner at the Château.
---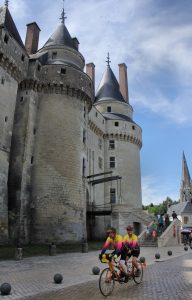 We leave Marçay on Day 4 and ride by three Châteaus on our way to Villandry. Our tour will take you to Château d'Ussé (think Sleeping Beauty's castle), Azay-le-Rideau and Langeais Castle. You will have the time to tour each at your own leisure, or just take cool pictures in front. Our hotel is a renovated convent in the town of Villandry. We close out the day with a group dinner near our hotel.
---
Day 5 is an open day. We will be spending a second night in Villandry. Your options are to take a ride in the countryside (just tell us how many miles and we will customize it for you), ride the bike path to the nearby city of Tours, visit Tours without your bike or just hang around the lovely town of Villandry. We do not recommend cycling in Tours. It is a great place to visit, but once you arrive, we recommend that you lock up your bike and walk around the city. Dinner will be at the outdoor patio of l'Etape Gourmande (a short walk from the hotel).
---
After a visit to the world renowned gardens and château at Villandry, we will be back on the bikes traveling to the town of Chenonceau. Along the way you will have the opportunity to stop at the Fortresse de Montbazon. Built in 991 AD, the fortress is one of the oldest medieval monuments in France. From there you can stop at a boulangerie for a baguette to picnic along the way or stop in one of the many small bistros that you will pass along the way to Chenonceau. Shortly before reaching our hotel, you may want to stop at the Caves du Pere Auguste for a wine tasting in limestone caves. We finish the day in the quaint town of Chenonceaux where you can stroll through the artisan shops. We recommend that you visit iconic Château de Chenonceau. Time permitting, rent a boat and explore this château by floating through it! Dinner is on your own.
---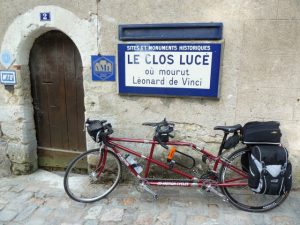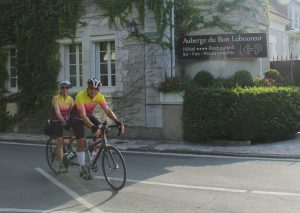 We do not have lot of riding on Day 7— only about 20 miles — but you will be very busy! You will start the day with a visit to the Amboise Royal Château where Leonardo da Vinci is buried.
Then you will cycle less than a mile to the Château du Clos Lucé where Leonardo da Vinci lived his last days. Clos Lucé hosts an indoor and outdoor museum which displays 40 of Leonardo da Vinci's inventions. We will have lunch at the old mill within the château grounds. Then cycle back to the hotel and it's time to pack up your bikes. Dinner is on your own in Chenonceau.
---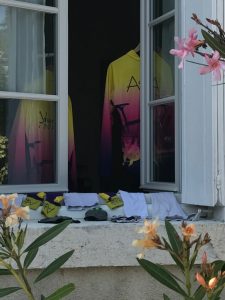 After a leisurely breakfast, we will finish packing and travel back to Paris' Charles de Gaulle Airport. On the way, we will stop by the city of Chartres where you can tour the famous cathedral and enjoy a group lunch. We will have a final group dinner and stay at the Hilton. From here you can either go home or take the train to Paris and continue your adventure.
---

Daily Ride Summary
| | |
| --- | --- |
| Day | Miles / feet of Elevation |
| 1 | 12 / 721 or 17 / 1036 |
| 2 | 35 / 1664 or 51 / 2170 |
| 3 | 36 / 1373 |
| 4 | 42 / 1769 (note there is a 1/4 mile cobblestone section that averages about 12% grade – which you can walk) |
| 5 | 29 / 730 or 41 / 1439 |
| 6 | 37 / 1270 |
| 7 | 27 / 992 or 41 / 1420 |
This tour is nearly full! We have room for just one more couple. The cost is $5,800 per couple ($2,900 per person). A nonrefundable $500 deposit will secure you spot on the tour. We require 50% payment by January 1, 2019 and the remainder is due by April 1, 2019.
What is included?
8 nights lodging in three and four star hotels, inns and even a castle!
8 breakfasts, 3 lunches and 6 dinners
Routes
Luggage transport
Transport to and from Charles de Gaulle airport
SAG support
Tandem bike case storage
Admission to Château de Saumur, Fortresse de Chinon, Château du Rivau, Chàteau de Ligré, the chàteau and gardens at Villandry, Caves du Pere Auguste and La Clos Lucé
Note that we do not provide any bicycles. We expect that you have a tandem that is in good working order and that you are able to assemble your bike. If you do not have a bike, please contact us and we can discuss options.
What is not included?
Airfare
Meals, other than those mentioned above
A few of the dinners include a glass of wine; however, in general, alcoholic beverages are not included
Admission to some points of interest that we are not entering as a group
What is the average mileage per day?
Average mileage is in the 30-40 mile range each day. The longest day is the day from Marcay to Villandry and that is only about 40 miles. We were reluctant to make longer routes because there is so much to see and do; however, if a team would like to ride more, we could customize some routes for you. Bear in mind, though, that we will not be providing SAG support, except in an emergency, if you are off the main route.
Where will we be staying?
While this could change, here are the hotels that we plan to stay in.
A word about hotels in France. The hotels in the French countryside generally do not have air conditioning. In our experience we have found that even when a hotel has air conditioning, they don't always give the guests control of the thermostat. Of these hotels only the Auberge de Bon Laboureur and the Hilton are air conditioned. Generally the hotels are in the countryside and it tends to be cool at night when we will be in the hotels, so we don't think it will be an issue. But we wanted to let you decide.
How do we sign up?