Trip Summary
10 Days / 9 Nights
Avg miles per day: 30-65
Hill profile: Some flats, punctuated by some pretty long uphills
Cost: in the $6,700 range per couple ($3,350 per person)
If you are looking to escape the winter – or just want to ride in a REALLY awesome place, Adventures in Tandem's ride around the Big Island is for you! Our tour begins in Waikoloa Beach, near the much busier town of Kona, with its international airport. We then ride counterclockwise around the island, visiting Kona coffee plantations, pristine black sand beaches that are frequently visited by sea turtles, Puuhonau Honaunau National Historical Park and Volcano National Park. You will have the opportunity to travel to the top of Mauna Loa, the largest active volcano and home to one of the largest observatories, the Keck Observatory. You will also have time to snorkel or just relax on our off or low mileage days.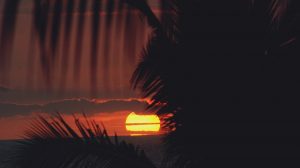 Note that this ride is definitely NOT FLAT. But we will be there to support you and while we expect everyone to ride each day, we can certainly shorten the ride for you.
Day 1
Saturday
We will meet at the Waikoloa Beach Marriott Resort and Spa, 18 miles north of the Kona International Airport. Note that there are cabs and Uber to take you from the airport to our start point. If you are traveling with a full sized tandem, we may be able to help you depending on when you arrive. We will put our bikes together, enjoy the lovely resort and have a group dinner.
Day 2
Sunday
Ride from Waikoloa Beach through Kona to the town of Captain Cook. British explorer Captain James Cook discovered the Hawaiian Islands in 1778. We will stop along the way at a coffee farm to learn about the farming process, tour the plantation and sample a variety of coffees. Note that much of the climb is in the last eight miles of the ride today. Dinner will be on your own as there are a number of options in Captain Cook. (38 miles with 2600 feet of climb)
Day 3
Monday
Today's ride takes you along a quiet road to Pu'uhonua O Hōnaunau National Historical Park. From here you will continue to the town of Pahala. Our hotel is a short walk to black sand beaches where turtles frequently sunbathe. Dinner will be an informal Thai food take-out. (58 miles with 3300 feet of climb)
Day 4
Tuesday
Today's ride is mostly up with grades mostly in the 2% to 4% range, with an occasional 7% grade. We end in the town of Volcano, just outside of Volcano National Park. Enjoy visiting the park in the evening where you can see the colors of the lava and enjoy a Tuesday evening Ranger talk. (31 miles with 4000 feet of climb!)
Day 5
Wednesday
Today you can take a rest day or take a short or long spin within Volcanoes National Park either along Crater Rim drive or down and then up the Chain of Craters Road. You can hike within the park. We will enjoy a group dinner at the Kilauea Lodge.
Day 6
Thursday
E

njoy coasting downhill to the town of Hilo. A much longer option will also be provided where you can ride to Kalapana along the ocean and see where the lava flow has reached the shore. Once in Hilo, you can enjoy kayaking, snorkeling, exploring the town or just relaxing. You can also take a short ride to Rainbow Falls. Dinner is on your own. (2

7 miles with only 67 feet up and 3800 feet down!)

Day 7
Friday
On this layover day you can go for a loop ride, visit Rainbow Falls and/or rent a car and drive to the summit of Mauna Loa at 13678 feet! (Bring something warm as it can be pretty windy and cool at the summit!)

There are a lot of other options in Hilo.
You can go on a fishing tour, swim with dolphins, take a whale watching or even a helicopter island tour. We will offer optional rides of up to 70 miles.

Day 8
Saturday
We leave Hilo enroute to Waimea. The riding is lovely along the eastern coastline. The first 30 miles are relatively flat, but then hills kick in as our route takes us away from the shoreline. We will be around with the van to provide support if you need it. We end the day in the small town of Waimea where we will enjoy a group dinner. (58 miles with 5500 feet of climb.)

Day 9
Sunday
On this last day of riding, you will have a choice between 19 miles with 400 feet of climb and 50 miles with 2400 feet of climb. The longer route follows the coastline for much longer and takes you to Hawi, at the northernmost point on the island. We end the day at the 

Waikoloa Beach Marriott Resort and Spa where our adventure began. We will reunite you with your bike cases and we will enjoy a party of taking apart bikes. We will celebrate one last dinner together, a luau including a show and fire dance.

On Day 10, you can continue your adventure by traveling to one or more of the other islands. Note that it is possible to ship your bike back to the States using Bike Flights. The cost of shipping to the mainland is quite reasonable. Then you will be able to extend your trip without dragging along a bike.
This is a nine night trip. We expect that the cost will be in the $6,700 range per couple ($3,350 per person). We limit the size of our tours to be no more than ten couples. We only accept couples on tandem bikes. We plan to open this tour up for registrations in late February, 2019. If you are interested in being the first to hear that the tour is open, please sign up here.

_____________________________________________
What is included?
Nine nights lodging (see the hotels/country inns below)
Nine breakfasts
Five dinners
Routes
Luggage transport
SAG support
Note that we do not provide any bicycles. We expect that you have a tandem that is in good working order and that you are able to assemble your bike. If you do not have your own tandem, you can rent a coupled tandem from Mel at Tandems East. If you live on the West Coast, you might want to consider renting a bike from Mark at Tandem Diversity.  Both Mel and Mark sell tandems, so if you end up renting from them, you might get a discount if you purchase a bike from them. If you have a tandem that is not coupled it is possible to bring it, but you should make sure that all of your flights could handle the larger box. Lastly, Adventures in Tandem has a coupled bike that we could rent to you if the sizing works out. Email us for more details. Note that we noticed that the cost to ship a bike from Hawaii back to the mainland is about half the cost to ship from the mainland to Hawaii. So feel free to ship your bike back and you can easily extend your trip without having to lug your bike. 
What is not included?
Airfare
Transportation to the Marriott in Waikoloa (start point)
Meals, other than those mentioned above
Alcoholic beverages
Admissions to points of interest
What is the average mileage per day? Average mileage is in the 25 to 60 mile range. We believe that there is enough to see so that more miles may prevent you from fully enjoying the culture and beauty of the area. That said, we can work with you if you would like to ride more miles. Bear in mind, though, that we will not be providing SAG support for these extra miles, except in an emergency, if you are off the main route.
Where will we be staying?
While this could change, here are the inns and hotels that we plan to stay in.
Waikoloa Beach Marriott Resort & Spa