Trip Summary
7 Days / 6 Nights
Avg miles per day: 25-55
Hill profile:Flat
Cost: $2,700 per couple
($1,350 per person)
SOLD OUT!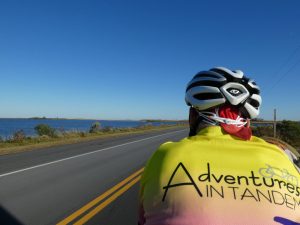 Join us for a six night/seven day tour of Virginia's Eastern Shore from June 9 to 15, after which you can head to the Eastern Tandem Rally in Williamsburg, Virginia.
Our tour will take you from Chincoteague Island and the Assateague Island National Seashore with its wild ponies, bird watching, pristine beaches and an iconic lighthouse to the small town of Onancock (pronounced oh-NAN-cock) and then on to the beach town of Cape Charles. We will spend two nights at each of three hotels. On these days you can ride or take a break.
After Chincoteague, you will enjoy the cycling on quiet, peaceful roads. The riding is pancake flat, but it can get windy there sometimes.
Day 1
Saturday
We will meet on Saturday, June 9th on Chincoteague Island where we will have a 24 mile ride around Chincoteague Island and the Assateague Island National Seashore.

There are wild ponies that live on Assateague Island. There are spots where you are likely to see them from afar, or you might be lucky, like we were, and get pony photobombed!

Check out the video we accidentally captured on our Cycliq camera.


You can also take a short walk to the Assateague Lighthouse that was built in the 1860's and also explore the lovely beach.

We end the day with a group dinner where we can enjoy the fresh seafood that Virginia's Eastern Shore is known for.

Day 2
Sunday
We will be staying two nights on Chincoteague Island. You will have the choice of riding a remote start 40 to 50 mile ride on the mainland, or you can enjoy Chincoteague Island, including the Chincoteague Museum and National Park. Be sure to check out Island Creamery, ranked in 2014 as the best ice cream shop in the United States! If you decide to ride, we suggest that you ride a remote start ride from Snow Hill, Maryland (about 40 minutes from Chincoteague) to Berlin, Maryland. Berlin was named the "Coolest Small Town in America". After getting lunch in the town (and by the way, the Island Creamery recently branched out and opened a second store – and it's in Berlin!), head back to Snow Hill and then to Chincoteague. Dinner is on your own. Since the days are long in June, you will have time to explore.
Day 3
Monday
On Day 3, we leave Chincoteague. We first drive across the causeway to the mainland peninsula (named the Delmarva Peninsula, a combination of Delaware, Maryland and Virginia). After parking, you will continue on bike. We will have a stop in Parksley and meet with a docent at the Eastern Shore Railway Museum. Enjoy a picnic lunch nearby. We end the day's riding in the fishing village of Onancock where you can browse the shops and enjoy sunset over the Chesapeake Bay. Dinner is on your own where there are a number of restaurant choices within walking distance of our inns.
Day 4
Tuesday
We spend the day in Onancock. You could do a loop ride, or if you would like a day off of the tandem, we recommend taking a ferry to Tangier Island. Tangier Island is a small island about an hour-long ferry ride from Onancock. Listed on the National Register of Historic Places, over 700 people live on the island, many from families who have lived on the island for generations and are predominantly fishermen. They even speak a dialect similar to Elizabethan English. You can visit the island museum, rent bicycles to explore, rent golf carts, kayak or just stroll around and enjoy this somewhat isolated island. The views from Tangier Island are expansive and lovely. The ferry will bring you back to Onancock around 4:30pm. We will enjoy a group dinner at the Charlotte Hotel & Restaurant.
Day 5
Wed
We leave Onancock enroute to Cape Charles. We will meet for lunch at the Chatham Winery. Feel free to do a tasting there too! We can pick up any of your purchases. You will end the day in Cape Charles. This is pretty far south on the Delmarva peninsula. There are shops, restaurants and an easy access bay side beach at Cape Charles.

Enjoy another sunset along the Bay. We will also take you back to retrieve your car. Dinner is on your own.

Day 6
Thursday
You will have the choice of relaxing in Cape Charles or taking a ride further south to Kiptopeke State Park with its very odd jetty and the Eastern Shore of Virginia National Wildlife Refuge where over 400 migratory birds pass through in the spring and fall. We end the day back in Cape Charles where we will enjoy a final group dinner.
Day 7
Friday
We leave Cape Charles to drive over the world famous Chesapeake Bay Bridge Tunnel. Finished in 1964, the bridge/tunnel is 18 miles long, including two one mile tunnels. When it was completed it was named "one of the seven engineering wonders of the modern world". It is only one of ten bridge tunnels in the world. It is a common destination for engineering students the world over. Anyway, how many bridges have a restaurant and gift shop on it?!!

You will arrive at the Eastern Tandem Rally in Williamsburg, VA with plenty of time to ride the Friday group rides.
Daily Ride Summary
| | |
| --- | --- |
| Day | Miles /Feet of Elevation |
| 1 | 25 miles / 125′ elevation |
| 2 | 42, 47 or 55 miles / 400′, 420′ or 500′ elevation |
| 3 | 30 or 46 miles / 380′ or 240′ elevation |
| 4 | 34 miles / 315′ elevation |
| 5 | 48 miles / 600′ elevation |
| 6 | 33 miles / 350′ elevation |
This is a six night trip. The cost is $2,700 per couple ($1,350 per person) for regular hotel accommodations or $2,850 per couple ($1,425 per person) with the two nights at the Inn at Onancock. Once you register for the tour, we will contact you to see if you would prefer the Inn at Onancock rooms. (Sorry – as of November 15 we have had enough sign-ups to fill up the Inn at Onancock rooms.)

As with most of our tours, we limit the size of the tour to a maximum of 10 couples. If you would like to join us for this wonderful trip, please sign up early. And if you do sign up to join us, make sure to sign up for ETR as soon as the registration opens as it will fill up quickly. As of February 6, it is sold out.

What is included?
6 nights lodging (see the hotels/country inns below for the different lodging choices)
4 breakfasts. (Note that the Hotel Cape Charles does not offer breakfast, but there are plenty of options a near the hotel)
2 lunches
3 dinners
Routes
Luggage transport
SAG support
Tandem case storage
Admission to the Eastern Shore Rail Museum
Wine tasting at Chatham Winery
Note that we expect that you will be bringing your own bike on the trip. Couples on single bikes are always welcome on our trips. If you do not have a bike, give us a call and we can discuss options.
What is not included?
Transportation to Chincoteague Island (start point)
Transportation to Eastern Tandem Rally from Cape Charles
Eastern Tandem Rally registration fees. Also we do not guarantee that you will get into the Rally. Be sure to register as soon as the rally registration opens
Meals, other than those mentioned above
Alcoholic beverages
Admissions to points of interest not mentioned above
What is the average mileage per day?
Average mileage is in the 25 to 50 mile range. We believe that there is enough to see so that more miles may prevent you from fully enjoying the culture of the area. That said, we can work with you if you would like to ride more miles. Bear in mind, though, that we will not be providing SAG support, except in an emergency, if you are off the main route.
Where will we be staying?
While this could change, here are the inns that we plan to stay in. We stay at Chincoteague, Onancock and Cape Charles for two nights each. Note that in Onancock, we are too large a group to fit into one hotel or Inn. Therefore, we will be spread across three inns. The Inn at Onancock is a bit more deluxe lodging and, hence, there is a $150 upcharge. We will contact you to see if you are interested in this hotel. We have five rooms available at the Inn at Onancock.
Comfort Inn and Suites – Chincoteague
1890 Spinning Wheel B&B – Onancock
1882 Colonial Manor B&B – Onancock
Inn at Onancock – Onancock (Deluxe accommodations, additional $150/team)
Hotel Cape Charles – Cape Charles
How do we sign up?
Sorry, but this trip is sold out!  You can get on the wait list though.