Trip Summary
9 Days / 8 Nights
Avg miles per day: 30 – 50
Hill profile: Generally flat, with some rolling hills. Note that winds might make it feel like hills. In addition, while we try to avoid dirt paths, there are a few on this tour.
Cost: roughly $6,900 per couple ($3,450 per person)
We expect to open registration in mid- June 2019.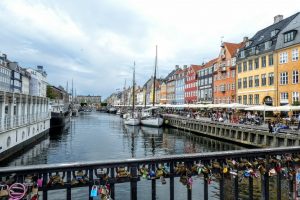 Experience Denmark – Beautiful riding along the Danish Riviera, castles, a round-trip to Sweden, Viking ships and a stay in an actual castle are just a few of the things that you will experience on Adventures in Tandem's Denmark, and a little bit of Sweden tour. Our philosophy is the best way to experience a country is by riding, staying in the hotels, eating in the restaurants and participating in the culture in small groups. Like all of our tours, we will only accept ten couples. While we have no plans to add a second tour in 2020, we are considering offering this tour again in 2021.
| | |
| --- | --- |
| Day 1, Monday | We meet in Copenhagen, "the Bike Capital of the World". Once our bikes are assembled, we will take a short ride along bike paths, enjoy a  guided walking tour of Copenhagen and perhaps a dinner cruise around the harbor on a wooden schooner. |
| Day 2, Tuesday | Today you will ride along bike paths from Copenhagen north along the Zealand shore. Ride by the iconic statue of the Little Mermaid, pass the Royal Hunting grounds (which were recently deemed a Unesco World Heritage Site, with it's centuries old trees and pathways), stop at the world renowned Louisiana Art Museum (a modern art museum set along some amazing coastline) and end the day in the medieval town of Helsingør. We will enjoy another group dinner. (35 miles) |
| Day 3, Wednesday | We will spend two days in Helsingør as there is a lot to see and do. First, you don't want to miss Kronborg Castle. That is the castle that Shakespeare based his play Hamlet on. There is also a Maritime Museum worth a visit. In addition, you can stroll about the medieval streets of the town. You can also take a ferry to Sweden, explore the city of Helsingborg, with it's castle ruins and art galleries and long bike path along the coastline. We offer a choice of rides in Sweden that are up to 50 miles of riding. Dinner is on your own. |
| Day 4, Thursday | You ride from Helsingør to Hillerød today. We offer routes that range from 30 to 50 miles. The 50 mile course follows the coastline amidst dunes and coastal towns. We end the day near the Frederiksborg Castle, an impressive castle built in large part in the 1600's that is spread across three islands. We will enjoy a group dinner. |
| Day 5, Friday | Today's ride takes you from Hillerød to the old town of Roskilde where we will spend two nights. In Roskilde, you will have the opportunity to visit the twin-spired cathedral which dates back to the year 1170 and is now a Unesco World Heritage site. We will enjoy a group dinner in Roskilde. (30 miles) |
| Day 6, Saturday | As we will be spending two nights in Roskilde, you will have time to explore the town. You can also visit the Viking Ship Museum where you will have the opportunity to take a Viking boat ride (you will row!) and see five Viking ships (circa the year 1000) that are being restored.  We will also offer a ride to the town of Holbæk where you can stop by the Cooperative Village Nyvang, a living village frozen in time in the 1940s. Dinner is on your own. (0 to 40 miles) |
| Day 7, Sunday | We leave Roskilde early on an air conditioned motor coach, with bike transport, to drive to "Bike Island" the island of Fyn (also known as Funen), a roughly 1.5 hour drive from Roskilde. The island (and its neighboring islands, Langeland and Ærø) prides itself in it's over 500 mile network of cycleways. In addition to great riding through beautiful Danish villages and countryside, we will have the opportunity to visit Hans Christian Andersen's childhood home, 800 year old castles and a historical village "stuck" in the 18th century. We will be staying in an authentic castle built around the year 1612. Dinner is on your own – either at the Castle or along the route to the castle. The sun sets around 9:45pm. |
| Day 8, Monday | We will spend a second night at Broholm Castle. We will offer a number of rides on the island from 25 to 60 miles. Or you could hang around the castle enjoying the lovely grounds. We will also have your bike cases available if you would like to pack up your bike. We will enjoy a gourmet dinner at the castle. |
| Day 9, Tuesday | After breakfast at the hotel, you can continue taking your bike apart or just enjoy a leisurely morning at the castle. We will leave in mid-morning, visit Voldemar Castle and then transport you and the bikes back to Copenhagen where our tour ends. Or perhaps you may choose to spend a few more days exploring this amazingly beautiful and cycle friendly archipelago. If you choose to go back to Copenhagen, you will have the choice of being dropped off at the airport or the Phoenix Hotel in Copenhagen. |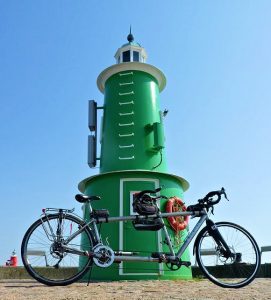 You may want to arrive early or stay a few extra days to explore Copenhagen. We will be able to add days on to the hotel.
As with most of our tours, we limit the size of the tour to a maximum of ten couples.

___________________________________________
What is included?
8 nights lodging in 3 and 4 star hotels and one 400 year old castle
8 breakfasts, 5 dinners
Luggage transport
Tandem bike case storage, and movement of boxes
Transport to Funen and from the end of the tour back to Copenhagen
Note that we do not provide any bicycles. We expect that you have a tandem that is in good working order and that you are able to assemble your bike. If you do not have your own tandem, you can rent a coupled tandem from Mel at Tandems East. If you live on the West Coast, you might want to consider renting a bike from Mark at Tandem Diversity.  Both Mel and Mark sell tandems, so if you end up renting from them, you might get a discount if you purchase a bike from them. If you have a tandem that is not coupled it is possible to bring it, but you should make sure that all of your flights could handle the larger box. Lastly, Adventures in Tandem has a coupled bike that we could rent to you if the sizing works out. Email us for more details. 
What is not included?
Airfare
Meals, other than those mentioned above
Beverages
Admission to points of interest that we are not entering as a group
Ferry fare (roughly $10 per person round trip for the ferry to Sweden)
What is the average mileage per day?
Mileage is in the 30-50 mile range each day, with three optional ride days. Many days have a choice of distances. We will be providing SAG services only in the case of an emergency or mechanical failure. Longer rides are also possible, but may be out and backs or repeat some roads that we will ride later on the trip. Across the eight days, expect to ride between 150 and 300 miles. This is a generally flat or rolling hills tour, but winds can kick up around the coast.
Where will we be staying?
While this could change, here are some of the hotels that we plan to stay in. Note that many hotels in Denmark do not have air conditioning. We believe that the only hotel with air conditioning is the Phoenix Hotel.