Trip Summary
9 Days / 8 Nights
Avg miles per day: 35-60
Hill profile: Long shallow hills.
Cost: $5,100 per couple
($2,550/person).
August 23 to 31, 2018 
and
September 1 to 9, 2018

SOLD OUT!
The Canadian Rockies, including the towns of Banff and Lake Louise, have been on our bucket list for ages. Even though this trip has the word "Rockies" in the name, the climbs are surprisingly not that bad. There are some long climbs, but they tend to be in the 2% grade range. There are no sustained steep climbs in the required riding. However, if you are looking for some challenging climbs, we have them for you on the optional ride days.
Take in the mountain peaks, emerald green lakes, waterfalls and lush forests around the UNESCO World Heritage Site in Banff and Lake Louise. The trip starts in Calgary. We ride on to the towns of Canmore, Banff and Lake Louise. In addition to spectacular riding, the trip includes a ride through the city of Calgary and a visit to the Yamnuska Wolfdog Sanctuary. You also have time to hike, boat and ride the Banff gondola to experience the breathtaking expanse of the Canadian Rockies. The trip is being offered on two separate dates: August 23-31, 2018 (sold out) and September 1- 9, 2018. The trip is full, but you can join the wait list if we have any cancellations.

We begin the tour in northern Calgary at the Bears Paw Lodge where we will assemble our bikes and have a group dinner. On the second day, we will set off for a 45 mile ride around the city of Calgary. More than half of the route is on dedicated bike paths and bike lanes. Calgary is a pretty bike-able city. We end the day back to the Bears Paw Lodge with another group dinner.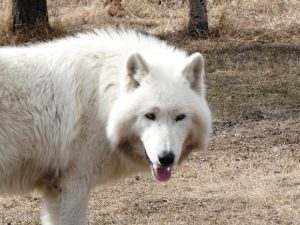 On Day 3, we set off from Calgary to the former mining town of Canmore in the foothills of the Canadian Rockies. We stop at the Yamnuska Wolfdog Sanctuary for a private guided tour of their facility where we see the wolfdogs that they have rescued up close. We then stop for a picnic lunch at the Ghost Lake reservoir and then continue into Canmore. Riding choices will be 40 or 60 miles. Expect moderate hills – 1400 feet of climb over 40 miles – not flat, but not too bad either.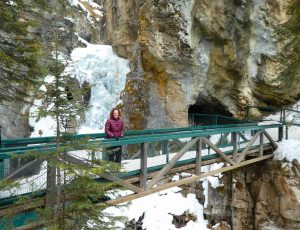 On Day 4, we head from Canmore up to Lake Louise. This is 50 miles with about 2600 feet of ascent. Here we ride past Vermillion Lakes and on the Bow Valley Parkway (Highway 1A). These roads are frequented by elk, mule deer and big horn sheep, as well as an occasional bear, wolf or coyote. You have the opportunity to stop by Johnston Canyon to hike to the upper or lower falls. It is not a strenuous hike and the views are gorgeous! (And there won't be any of the white stuff that was there when we visited in April 2017!) We end the day at the Lake Louise Inn near the emerald colored Lake Louise.
On Day 5, you have the opportunity to do what you want up at Lake Louise. This could be more riding – up the Ice Fields Parkway or to Morain Lake – or you could hike up to the the Plain of the Six Glaciers to a glacier viewpoint over Lake Louise.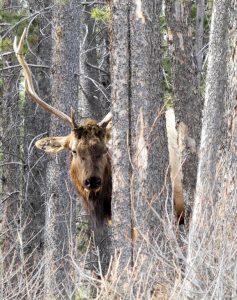 On Day 6, we head back over to the Bow Valley Parkway and ride to the lively town of Banff where we will stay for two nights. You will have the opportunity to take the Banff Gondola to dine and wander on the top of Sulphur Mountain (7500 feet), learn about the history of the area, look for wildlife as you ride the Minnewanka Loop (we saw these guys there), hike. shop and relax in the Banff Upper Springs hot springs.
On Day 8, you will have time to wander in Banff, hike a bit and disassemble your bike. We then transport you back to Calgary where we will celebrate our last dinner together.
On this tour you will have a bit more free time to explore than we typically provide. There are a lot of choices on what you can do each day. While there is plenty of nice riding, there are other things to do as well such as hiking, shopping, photographing nature, and more. We hope that you love this area as much as we do.
The cost is $5,100 per couple ($2,550/person). A non-refundable, $500 deposit will secure your spot on the tour. We require 50% payment by March 1, 2018 and the remainder is due by June 1, 2018. 
What is included?
8 nights lodging
8 breakfasts, 1 lunch and 3 dinners
Canadian National Park Admission for four days
Yamnuska Wolfdog Tour
Transport from Banff to Calgary, including bike
Luggage transport
SAG support
Tandem bike case storage, if needed
Note that we do not provide any bicycles. We expect that you have a tandem that is in good working order and that you are able to assemble your bike. If you do not have your own tandem, you can rent a coupled tandem from Mel at Tandems East. If you have a tandem that is not coupled, we recommend that you ship your tandem to Calgary before the tour. BikeFlights is an option. 
What is not included?
Airfare
Meals, other than those mentioned above
Alcoholic beverages
Admission to some points of interest that we are not entering as a group
What is the average mileage per day?
Mileage is in the 30-60 mile range each day, with two potential rest days in the middle of the week. Many of the days will have optional lengths. Across the week, expect to ride 170 to 250 miles.
So just how much climbing is there in the Canadian Rockies?
We were surprised that the grades weren't really that bad. Northern New Jersey is much worse! There are no sustained steep climbs on the required riding days; although there will be some steeper climbs on a few optional rides. Also, there are days where there will be ten mile 1% to 2% grade hills. This cycle tour is for intermediate level cyclists.
Where will we be staying?
While this could change, here are some of the hotels that we plan to stay in.
How do we sign up?
The tours are sold out, but you can get on the wait list: