Trip Summary
7 Days / 6 Nights
Avg miles per day: 30-65
Hill profile: Long shallow hills. Optional rides are A LOT hillier!
Cost: $3500-$3850 per couple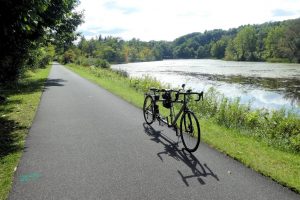 Join us for a lovely six night, seven day tour of the Berkshire Mountains in western Massachusetts. This tour will dovetail with the 2019 Eastern Tandem Rally which will be in Lynnfield, Massachusetts, just north of Boston, from June 28-30, 2019. Lynnfield is about a two hour drive from our pre-tour. Our tour will have no route overlap with the rally.
The Berkshires is a bucolic region where there are small towns and a unique combination of beautiful scenery, a thriving art community, music, dance and theater. Our tour starts and ends in the town of Lenox, home to the Tanglewood Music Festival – the summer home for the Boston Symphony Orchestra. On our tour we travel north to the town of North Adams and will stay right next to the Massachusetts Museum of Contemporary Art (MASS MoCA), one of the world's largest modern art museums. In addition to the arts, you will have the opportunity to ride up Mount Greylock, Massachusetts' highest peak, and visit many parks and waterfalls, historic villages and even the town that inspired Norman Rockwell!
Day 1

Saturday

We will meet in the quaint town of Lenox, Massachusetts. The town has both a farming history and was the summer residences of the early 20th century's 0.01%. The riding is lovely, but it isn't flat. We will do a short ride on Saturday afternoon of roughly 17 miles with about 1100 feet of elevation. We will be staying in a bed and breakfast in town, which is walking distance to the Tanglewood music festival and the shops and restaurants in town. We plan to enjoy a group dinner in town or perhaps we will be able to have a picnic dinner and attend an event at Tanglewood. Once the Tanglewood schedule is available, we'll see what we can do.

Day 2

Sunday

After a sumptuous breakfast, today's ride will take us to the town of Stockbridge. If the name Stockbridge is familiar to you it might be because that is the town that Norman Rockwell retired to or perhaps it is because that is where Alice's Restaurant (the Back Room Restaurant) was located in 1966. Either way, you will have the opportunity to explore the Norman Rockwell Museum in Stockbridge. Stockbridge is also home to the Berkshire Botanical Garden and Chesterwood, the 19th Century summer residence of sculptor, Daniel Chester French. You can ride anywhere from 30 to 54 miles today. Dinner is on your own with many nice restaurants to choose from that are walking distance from the Inn.

Day 3

Monday

Another delicious breakfast at the B&B. Today's ride will take you west of Lenox to small towns, lovely vistas and a stop at the Hancock Shaker Village, a restored village with several guided tours, a cafe and a working farm. You might even get to do yoga with the goats. Shorter routes will be in the 35 mile range while longer routes can range up to 60 miles (or more, upon request). Tonight we will stay again at the Brook Farm Bed and Breakfast. Dinner will be on your own. We will be keeping an eye out for what shows will be offered at the Tanglewood festival as well as Jacob's Pillow (dance) and Shakespeare & Company (theatre, Shakespeare and more).

Day 4

Tuesday

After yet another great breakfast and moving our cars to a location that we can leave them at for a couple of days, we will head north to the town of North Adams. Along the way we will ride the full 12 mile length of the bucolic (and paved) Ashuwillticook Trail.

North Adams is the home of the MASS MoCA, contemporary art museum. Other attractions include Natural Bridge State Park, with its marble arches, and the Cascades Trail, a lovely short hike to beautiful waterfalls. You can also check out the eclectic Museum of Dog in town. We will be staying at the Porches Inn right across from the MASS MoCA Museum. The Porches is a boutique hotel built from converted row houses that previously housed the factory workers who worked in the factory that is now MASS MoCA.

We will enjoy a group dinner in town.

Day 5

Wednesday

Today we will stay in North Adams. You can ride to Williamstown, the home of Williams College and home to the Clark Art Institute as well as the Williams College Museum of Art.

You can ride an optional challenge ride up Greylock Mountain (at nearly 3500 feet, the mountain is the tallest in Massachusetts). We will also offer a ride that takes you to the lovely town of Bennington, Vermont.

As with the other days, today's choices will range in mileage and hill climb. Dinner will be on your own, with plenty of choices within walking distance from the hotel.

Day 6

Thursday

We head back to Lenox with over half of the ride being on the Ashuwillticook Rail Trail, a paved trail that runs from the towns of Adams to Cheshire. You can also visit art galleries and even stop and take a guided tour of Arrowhead, Moby Dick author, Herman Melville's home in Pittsfield. We will also ride by Wahconah Falls State Park where you can take a short hike. We will be staying at the Courtyard by Marriott in Lenox. You will again have your cars. We will enjoy a final group dinner in Lenox.
Day 7

Friday

After breakfast at the hotel, we will head home or to the Eastern Tandem Rally in Lynnfield, MA, a two hour drive from Lenox.
Rides
1 Audubon / Railway Museum Loop
18.0 miles
+1093 ft
2L Stockbridge – Sheffield Loop
56.0 miles
+2860 ft
2s Stockbridge – Great Barrington Loop
30.3 miles
+1710 ft
3L Hancock Shaker / East Chatham Loop
60.1 miles
+4115 ft
3s Hancock Shaker / Queechy Lake Loop
33.7 miles
+2201 ft
4L Lenox to North Adams Long
36.7 miles
+1790 ft
5gL Greylock Mountain Hill Climb Long
39.9 miles
+3608 ft
5gS Greylock Mountain Hill Climb Short
20.0 miles
+2922 ft
5L Williamstown Bennington Loop
40.1 miles
+2147 ft
5M Three State Loop
38.0 miles
+2376 ft
5x Natural Bridge State Park
4.1 miles
+352 ft
6 North Adams to Lenox
32.3 miles
+1904 ft
This is a six night trip. The cost is $3,500 per couple ($1,750 per person). We will staying at the Rookwood Inn and the Porches Inn. Both of these inns have varied rooms. If you would like to stay in the more deluxe rooms, the cost is $3,850 per couple ($1,925 per person). We have six rooms at the $3,500 per couple rate and six rooms at the $3,850 rate.
We limit the size of the tour to a maximum of twelve couples.
Note that while this tour dovetails with the 2019 Eastern Tandem Rally, you are still responsible for signing up for the rally. Note that the rallies have filled up quickly in the past. If you have signed up for our trip, we will let you know when registration opens.
_____________________________________________
What is included?
Six nights lodging (see the hotels/country inns below)
Six breakfasts
Three dinners (we may offer to buy tickets to an event at Tanglewood and do a picnic dinner on the grounds, instead of a full dinner)
Routes
Luggage transport
Entry into the Norman Rockwell Museum and the Hancock Shaker Village.
Note that we do not provide any bicycles. We expect that you have a tandem that is in good working order and that you are able to assemble your bike. If you do not have your own tandem, you can rent a coupled tandem from Mel at Tandems East or Mark at Tandem Diversity. If you have a tandem that is not coupled, we recommend that you ship your tandem to Lenox before the tour. BikeFlights is an option. 
What is not included?
Transportation to Lenox, MA (start point)
Transportation to Eastern Tandem Rally from Lenox, MA
Eastern Tandem Rally registration fees. Also we do not guarantee that you will get into the Rally. Be sure to register as soon as the rally registration opens
Meals, other than those mentioned above
Alcoholic beverages
Admissions to points of interest not mentioned above
What is the average mileage per day?
Average mileage is in the 25 to 50 mile range. We believe that there is enough to see so that more miles may prevent you from fully enjoying the culture of the area. That said, we can work with you if you would like to ride more miles. Bear in mind, though, that we will not be providing SAG support, except in an emergency, if you are off the main route.
Where will we be staying?
While this could change, here are the inns that we plan to stay in. We stay at the elegant Rookwood Inn in Lenox for three nights, the "retro-chic" Porches Inn in North Adams for two nights and the Courtyard By Marriott in Lenox for one night. 
How do we sign up?