Trip Summary
9 Days / 8 Nights
Avg miles per day: 30-60
Hill profile: Long shallow hills.
Cost: $5,200/team
($2,600/person)
We plan to open registration in January 2020. If you are interested in getting notice when we open the tour, please sign up here.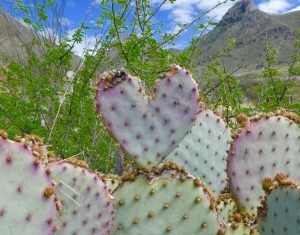 We could think of no better way to start the cycling year off than a ride through the desert landscapes of southern Arizona. The riding is lovely and the weather is great in March!
Our trip begins in Tucson, Arizona and then takes off south to visit the towns of Green Valley, Tubac, Patagonia and Sonoita, before heading back to Tucson. Some of the many highlights of the trip include a visit to the Titan Missile Museum, browsing the galleries of Tubac, birdwatching and wine tastings. In addition, we will have an excursion to Kartchner Caverns, Tombstone and the old town of Bisbee.
This tour has a bit of everything!
Day 1
We begin our trip in the very bicycle friendly city of Tucson, Arizona. We meet at the Lodge on the Desert. You can take a ride directly from our hotel to downtown Tucson, including Historic Downtown Tucson and the University of Arizona.

Explore the bike path along the river banks on the west side of town. (Don't expect to see water in the river, though. It is the desert!)

Mileage 15 to 50 miles.

We will enjoy a group dinner at the hotel.

Day 2

On Day 2, we set out for Green Valley. The roads are incredibly quiet. Large Saguaro cacti that are unique to the Sonoran Desert are spread across the landscape. Stop at the historic mission, San Xavier del Bac, located on the Tohono O'odham Indian Reservation. Then continue on to the town of Sahuarita where there are plenty of eateries. You will ride alongside pecan groves as you approach Green Valley. Stop at the Titan Missile Museum to tour the preserved site where an actual Titan II Missile is housed (but no longer operational). This is the only museum of its kind…anywhere.

The day's mileage is 43 miles with about 1600 feet of elevation.

Day 3


On Day 3, we will be riding from Green Valley to the artsy town of Tubac. The riding ranges from 20 to 40 miles. You will have a choice of how to spend the day. Our longer route has a stop at the Fred Lawrence Whipple Observatory Visitors Center. The Observatory is operated by the Smithsonian Astrophysical Observatory and Harvard University. For those of you that are into astronomy, there is also a five hour bus tour which begins at 9am that takes you up to the observatory located at the summit of Mount Hopkins (8700 foot). (We cannot guarantee that there will be tickets available for the tour as they do not accept reservations until February 2021. Let us know if you are interested.) There are amazing views along the way plus you get to see a huge telescope (over 18 feet in diameter!)…or you can browse the galleries in Tubac…or you can enjoy a round of golf at the Tubac Golf Resort where we will spend the night. Dinner will be at the resort.

Day 4


We leave Tubac on Day 4, on our way to the old west town of Patagonia. Spend the morning enjoying the art scene in Tubac. On the way to Patagonia, stop at the Mission Tumacácori National Historical Park. (Admission is free if you have a National Park Pass.) Watch the landscape change from desert to grassland as we climb (yes, climb!) into Patagonia. The route choices range from 35 to 45 miles with 2000 to 3000 foot of elevation. The longer route also goes to the beautiful Sonoita Creek State Natural Area. Patagonia is the filming location of many western movies.

Today, Patagonia is a mecca for birders. We will take a stop at the Paton Center for Hummingbirds. (It's pretty cool seeing these tiny birds close up!) We will be staying at the Stage Stop Inn.

Day 5

Day 5, is a rest day. Well sort of…You will be off the bike, but we will keep you busy just the same. We will take a tour of the amazing formations in Kartchner Caverns, have a picnic lunch in the old town of Tombstone (think Wyatt Earp and the gunfight at the OK Corral) and then explore the former copper mining town of Bisbee. You will have the opportunity to tour a former underground copper mine, have time to wander in the town's shops and enjoy wine and cheese at the Bisbee Bike Brothel. We will then have dinner together in Bisbee. It's a long day, but you won't be in the saddle! Miles: Zero!
Day 6

OK, so we all know what it's like to have a passion. Ours is tandem cycle touring. But we also like to learn about other people's obsessions.

So before we leave Patagonia on Day 6, you will have the opportunity to take a guided hike with Matt Brown owner of the Patagonia Birding & Butterfly Co. He will tell us about the area, birding in general and point out the various species of birds as well as the local trees and vegetation. We will then ride to the wine country of Sonoita and Elgin.

Viticulture in Arizona began 500 years ago with Spanish Jesuit priests planting vines. Now there are over 110 wineries, vineyards and cellars in mostly Southern Arizona. Stop and do a tasting (or two!). Mileage choices are 13 to 40 miles (or more if you want them!) Dinner will be together at the Steak Out restaurant in Sonoita.

Day 7


Day 7, will be our longest day of riding. We will be riding 56 miles from Sonoita back into Tucson. But no worries, after mile 10, it is all downhill! You're welcome!

Once back into Tucson, you will ride past the Boneyard (where old planes go to die) and the PIMA Air & Space Museum. There are great guided tours of both the Boneyard and the airplanes at PIMA. We end the day back at the Lodge on the Desert.

Dinner is on your own in Tucson.

Day 8


You will have a choice of rides for Day 8. You can ride west to the Sonoran Desert Museum or east to the East Saguaro National Park. Rides range from 40 to 60 miles. Or you can relax by the hotel pool. Dinner will be a group dinner at a fine restaurant in Tucson.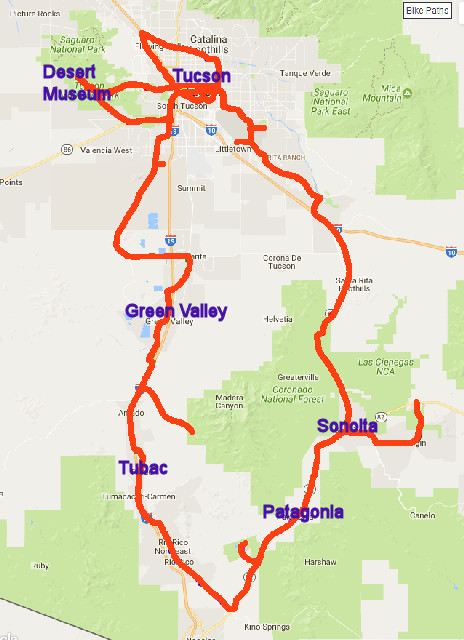 What is included?
8 nights lodging
6 breakfasts (sorry, breakfast is not included in Patagonia, but there are plenty of cafe's), 1 lunch and 5 dinners
Guided tours of Kartchner Caverns, Copper Queen Mine, Tombstone and Bisbee
Wine and cheese reception at the Bisbee Bike Brothel
Private birding tour
Luggage transport
SAG support
Tandem bike case storage, if needed
Parking, if needed
Note that we do not provide any bicycles. We expect that you have a tandem that is in good working order and that you are able to assemble your bike. If you do not have your own tandem, you can rent a coupled tandem from Mel at Tandems East. If you have a tandem that is not coupled, we recommend that you ship your tandem to Tucson before the tour. BikeFlights is an option.
What is not included?
Airfare
Meals, other than those mentioned above
Alcoholic beverages
Admission to some points of interest that we are not entering as a group
What is the average mileage per day?
Mileage is in the 30-60 mile range each day, with one rest day in the middle of the week. Many of the days will have optional lengths. Across the week, expect to ride 250 to 350 miles. There are no sustained steep climbs; however, there are days where there will be ten mile 1% to 2% grade hills. This cycle tour is for intermediate level cyclists.
Day
Route
Miles
Ascent
Descent
1
Le Tour De Downtown Tucson
23
400
400
2
Tucson to Green Valley
43
1600
1200
3
to Tubac short
to Tubac long
24
40
1000
2200
800
2000
4
to Patagonia short
to Patagonia long
35
45
2000
3000
1100
2100
6
to Sonoita short
to Sonoita long
13
40
900
1900
900
1100
7
Sonoita to Tucson
55
1100
3500
8
Arizona-Sonora Desert Museum short
Arizona-Sonora Desert Museum long
40
57
1500
1700
1500
1700
Where will we be staying?
While this could change, here are some of the hotels that we plan to stay in.