Trip Summary
12 Days /11 Nights
Avg miles per day: 30-70
Hill profile: Hilly, this is not a tour for sissies! We expect that you will be able to ride a 50 mile ride that has 5000 feet of climb.
We expect you to ride in all weather.
Cost: $8,200/team ($4,100/person)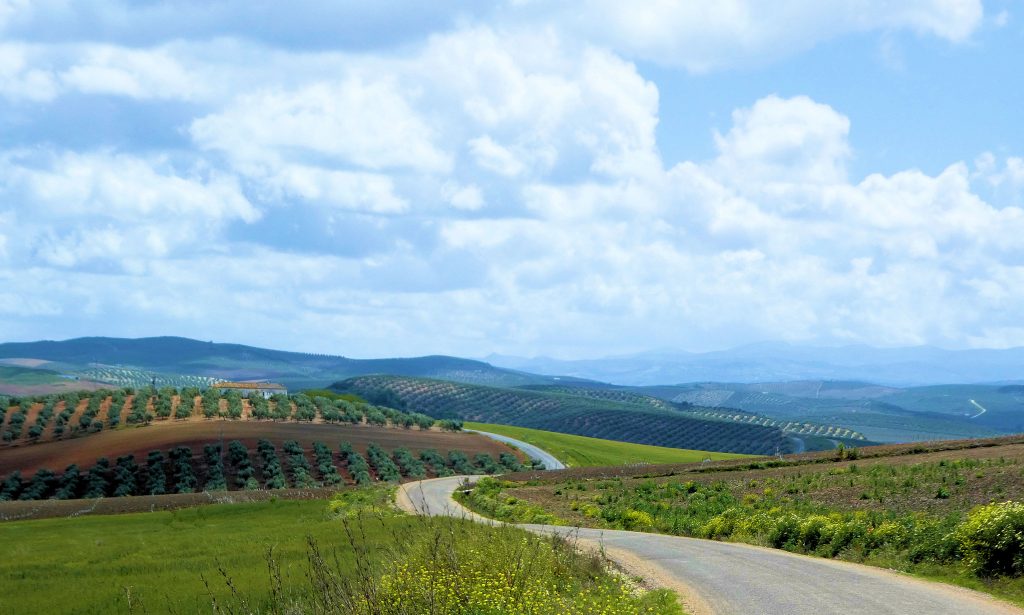 Southern Spain. This beautiful region of Spain includes lush countryside as well as landscapes that will remind you of Arizona. There are hills, rivers and exquisite architecture reminiscent of the Arabian Nights. Visit the cities of Seville, Cordoba and Granada, as well as smaller towns of Ronda, Carmona and Zuheros.
Adventures in Tandem will again partner with Naturbike to offer this eleven night tour beginning in Seville and ending in Granada, with optional transport to the airports in Malaga or Seville. This adventure runs from May 2 to 13, 2020. Riding will be in the 30 to 70 mile a day range. This tour is suitable to people who embrace hills!
We hope to see you in Andalusia in May 2020!
Day 1


Saturday

We begin the tour in Seville, the capital of the Andalusia region of Spain. You will have the opportunity to come early and spend a few extra days in Seville before the tour starts. You won't want to miss seeing the royal palace, Alcázar of Seville, with it's Moorish architecture, the huge Cathedral of Seville and Giralda Tower. You can also take in a Flamenco show and walk through the winding small streets in the old city or tour the Plaza de España. Seville has a lot of bike lanes. We will offer a 14 mile loop around the city. We will enjoy a dinner together in Seville.
Day 2
Sunday
As we prefer to ride in less busy areas, we will take you from Seville to the smaller town of Ronda, a two hour drive southeast of Seville. Ronda is unique in that the city was built around an enormous gorge. Ronda is home to the oldest bullfighting ring in Spain. You can explore the Bullfighting Museum and the Puento Nuevo or New Bridge (completed in the year 1793). As you cross the bridge, peer over the 360 foot deep and 200 feet wide gorge that the city is built above.  Dinner will be on your own. Ride: 28 miles with 2200 feet of climb
Day 3 Monday
We leave Ronda and cycle to the small town of Carmona. Along the way we will see Setenil de las Bodegas (houses built into rocks) and pass through the lovely white village of Olvera. Look up and you will see the 13th century Arab Fortress  looming above. Ride through the gates surrounding the city of Carmona and explore its medieval streets. We will enjoy a group dinner. Ride choices are 52 or 74 miles, hilly but with more down than up!
Day 4 Tuesday

On Day 4, you will have the choice of riding 27, 55 or 76 miles along back roads into the city of Córdoba where we will be spending two nights. Córdoba was a beacon of religious tolerance, art, philosophy and science in the 10th century when the rest of Europe was in the midst of the Dark Ages. Our hotel is in the historic Jewish Quarter of the city, very close to many places of interest. We particularly enjoyed touring the Museum of Al-Andalus Life and Calahorra Tower. Dinner will be on your own in the many restaurants near our hotel.

Day 5 Wednesday

We will meet a guide at 9am to take a two to three hour walking tour of the old city and the Mezquita Cathedral. This mosque turned cathedral is amazing in its Moorish architecture and grandeur. You will be on your own for the afternoon to see the sights. We will also offer a loop ride for those who cannot do a day off the bike. Dinner is on your own as there are plenty of restaurants, or if you like to go to bed earlier, you can grab a bite at one of the many tapas bars in the area.

Day 6 Thursday
We leave Cordoba on Day 6 riding across the Roman Bridge and then to the town of Zuheros. The riding today is on quiet roads through farms and olive groves. The 47 mile route is hilly, with more up than down. Take your time on the hills and soak in the incredible views. Once in Zuheros, we will enjoy two days at a small, country hotel that borders on a National Park and the Via Verde bike path. We will enjoy a group dinner.
Day 7 Friday

On our layover day, you can do a loop ride in the area, stroll through the quaint town, visit the Castillo de Zuheros (which is in impressive ruins) and see the Cueva de los Murciélagos (underground caves). We offer a choice of rides, but our favorite is a 17 mile loop that takes you to the white hill towns of Luque and Zuheros and the caves. Part of the ride is along the Via Verde bike path. We will enjoy a group dinner.

Day 8 Saturday

On Day 8 we leave Zuheros and we, along with our bikes, will be transported about two hours to the Benalúa area. We will ride a choice of 25 or 44 mile rides in a completely different, now desertlike landscape. We will enjoy lunch at Rosalia's Restaurant in Gorafe. You will have the opportunity to explore some of the hundreds of dolmen's in the area and also an interpretive museum of the area. (A dolmen is a single chamber megalithic tomb built in the Bronze age about 5000 years ago.)  We will check into our hotel – a very unique place where the rooms are all built into the clay hills. We will enjoy a group dinner at the hotel.

Day 9 Sunday

We will enjoy a layover day in Benalúa. You will have the option to do a 41 mile loop ride to the preserved La Calahorra Castle from 1509, the Guadix cave homes and the Baroque style Guadix cathedral. We will also offer a hike through the badlands that you can take directly from the hotel. Dinner will be at the hotel.

Day 10 Monday
We leave the cave hotel and cycle into the foothills of the Sierra Nevada, following the old Moorish trading road from Guadix to Granada. The ride is along quiet roads with incredible views. You will see the snowy Sierra Nevada mountains in the distance. After a long climb, you will enjoy a ten mile downhill and then a ride into Granada. Our hotel is walking distance to the major city attractions, but enough on the edge of town so that you won't have to ride long on busy streets. We will be spending two nights in Granada. You will be on your own for dinner at the many nearby eateries.

Day 11 Tuesday
We spend our last day exploring the city of Granada on foot. We will meet our guide to visit Alhambra. According to Lonely Planet, "Alhambra is Granada's – and Europe's – love letter to Moorish culture." Alhambra is a fortress and palace with parts built in the 13th century. You could easily spend the day here, or you could also explore the city. You will also be reunited with your bike cases here and be able to disassemble your bike in the underground garage. We end the tour with a final group dinner in Granada.
Day 12 Wednesday
Our tour ends after breakfast. However, we will offer transport to the airport in either Malaga or Seville.
Click here if you would like to see more pictures from our April 2019 scouting trip.
As with most of our tours, we limit the size of the tour to a maximum of ten couples. So our tours fill up fast.

___________________________________________
What is included?
Guided tour with a driver and a guide from Naturbike
11 nights lodging in 3 and 4 star hotels, including one cave hotel
11 breakfasts, 1 lunch and 7 dinners
Transportation from Seville to the start point near Ronda on Day 2
Transportation to Benalúa on Day 8
Guided tour and admission into Alcazar in Seville
Guided tour and admission into the Mezquita including the Bell Tower in Cordoba
Guided tour and admission into Alhambra in Granada
Luggage transport
Support vehicle
Tandem bike case storage, and movement of boxes from Seville to Granada
Note that we do not provide any bicycles. We expect that you have a tandem that is in good working order and that you are able to assemble your bike. If you do not have your own tandem, you can rent a coupled tandem from Mel at Tandems East. If you live on the West Coast, you might want to consider renting a bike from Mark at Tandem Diversity.  Both Mel and Mark sell tandems, so if you end up renting from them, you might get a discount if you purchase a bike from them. If you have a tandem that is not coupled it is possible to bring it, but you should make sure that all of your flights could handle the larger box. Lastly, Adventures in Tandem has a coupled bike that we could rent to you if the sizing works out. Email us for more details. 
What is not included?
Airfare
Meals, other than those mentioned above
Beverages
Admission to some points of interest that we are not entering as a group
Airport transfers at the beginning and end of the trip
What is the average mileage per day?
Daily mileage can be seen in the chart below. The rides in italics are optional riding. The days with shorter ride options are transfers to remote start points. As you can see from the ascent and decent numbers below, there are lots of hills in Andalucia. This cycle tour is for intermediate level cyclists. You should be able to ride 50 miles with 5000 feet of climb, although you have all day to do this.
Day
Route
Miles
Ascent
Descent
1
Around Seville
14
500
500
2
to Ronda
28
2200
3400
3
to Carmona long
to Carmona short
73
52
4500
2700
6100
3800
4
to Cordoba long
to Cordoba medium
to Cordoba short
76
55
27
1800
1800
1100
2200
1500
1100
5
Loop Ride

33
3000
3000
6
to Zuheros
47
4200
2700
7
Subbetica Loop
Caves Loop
Caves and Towns Loop
48
8
17
4200
1600
2100
4200
1600
2100
8
to Benalua long
to Benalua short
44
25
2400
1300
3600
2400
9
La Calahorra Granja Loop
41
2300
2300
10
to Granada
34
2600
3100
Where will we be staying?
While this could change, here are some of the hotels that we plan to stay in.