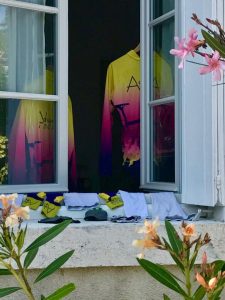 If you missed your chance at ordering  Adventures in Tandem Jerseys, here is your chance! Between now and December 17, 2017, you can order any kind of jersey, vest and jacket from Voler. Orders will be shipped around January 30, 2018.
We do not expect to offer another jersey sale for at least a year.
Order your Adventures in Tandem Jerseys here.
The jerseys are bright, stylish and quite visible on the road. Jerseys and vests cost $80. Jackets are $85. We have also designed an Adventures in Tandem cycling cap for $12. These prices do not include shipping.
We offer sleeveless, short sleeved and long sleeved jerseys. We offer the long sleeved jerseys in two fabrics – the lightweight Genesis fabric (same as the short sleeved jerseys) and a geo-thermal fabric for cooler days.  Note that the women's short sleeve club cut jerseys will not have the elastic gripper waist (even though the order form says that it is included. We prefer the jersey without the gripper).