Who We Are
We are avid tandem cyclists! We used to just ride bikes. We didn't talk much while riding – partly because we weren't next to each other and partly because Caren was too out of breath to hold much conversation. In 2005, we began to tandem cycle and it changed our lives. We've made friends through cycling and have traveled the world – IN TANDEM.
Over the past few years we have planned a number of tandem bicycle rallies through the Eastern Tandem Rally organization and have also planned vacations with friends. In October, 2016, after working in the corporate world for the past 30 years, we embarked on a new adventure – together – ummm, we mean… IN TANDEM.
Adventures in Tandem is a new company that specializes in tours for couples – on tandem bicycles. Our tours are small – no more than ten couples – and flexible, offering customized routes based on the travelers in our group.
Our Principles
The Journey is the Destination – We believe that there is more to the journey than the number of miles ridden. Our tours have stops along the way at points of interest in the area. We offer suggestions for lunch, or, provide a picnic lunch at a stop along the route. We Give You Time to Explore – You won't find every meal included in an Adventures in Tandem tour. We believe in giving you time to explore a particular town yourself. Our tours generally provide breakfasts, some lunches and about half of the dinners.
We Provide Support – Whether it is help assembling your bike or help along the route, we are there for you. We carry your luggage from hotel to hotel. Our smaller group size enables us to be flexible and available.
Our Trips are Affordable – We like luxury as much as the next couple, but when you are out riding all day, we don't see the point of staying at a five star hotel. You won't be there long enough to enjoy it. Our tours tend to stay at small, country inns or bed and breakfasts – run by people who live in the areas that we are visiting.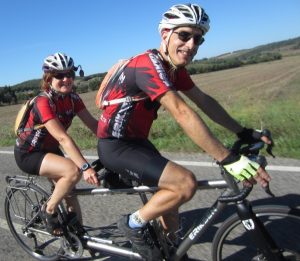 You can email us at adventuresintandem@gmail.com.
ESave